Mood of the Sales Leader 2019
Download the 2019 report

.
The 'Mood of the Sales Leader Survey' comprised 37 questions that were shaped to reveal deep insights about the experiences, mood, sentiment and future thinking of a wide cross section of NZ Sales Leaders. In particular we were keen to understand more about the following 6 key areas: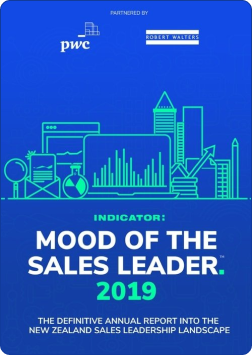 Get the thoughts & insights of NZ's most progressive Sales Leaders with responsibility for over $8.2bn in revenue
This 15-page report will give you the insights and inspiration to tackle your goals and challenges in 2019.
See what challenges the market had to face and overcome in 2018.
Find out what Sales Leaders are anticipating in 2019 and what is the greatest challenge they expect to face
How many Sales Leaders are investing in training & development?
What's the ONE THING New Zealand's Sales Leaders want their teams to do better in 2019?