Mood of the Sales Leader 2020
Get the thoughts & insights of NZ's most progressive Sales Leaders with responsibility for over $10.6 Billion in revenue

.
This report will give you the insights and inspiration to tackle your goals and challenges in 2020.
See what challenges the market had to face and overcome in 2019.
Find out what Sales Leaders are anticipating in 2020 and what is the greatest challenge they expect to face
How many Sales Leaders are investing in disruptive technologies
What's the ONE THING New Zealand's Sales Leaders want their teams to do better in 2020?
All the answers are here in the full report. Download it for free now!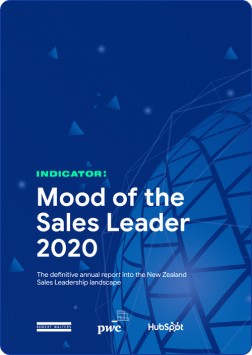 The Indicator team surveyed 226 leading Sales Managers, Sales Directors, Commercial Directors and other individuals responsible for a total of $10.6bn in revenue over the months of November & December 2019. Indicator was founded in 2015 and specialises in sales training and consultancy services. They work with both companies and individuals to achieve improved B2B sales results. See more at indicator.co.nz